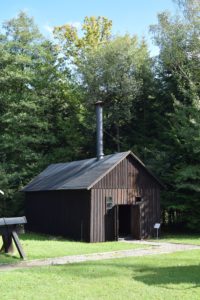 Budynek kotłowni z 1867 r. W kotłowni znajduje się kocioł pło­mienicowy o powierzchni ogrze­walnej 30 m2, który opalany był węglem i koksem. W XIX-wiecz­nej kopalni, para wytwarzana w ko­tłowni stanowiła podstawowe źró­dło energii. Stosowana była w ma­szynach parowych, które służyły do napędu kieratów i urządzeń wiert­niczych. Za pomocą gorącej pa­ry oczyszczano rury wydobywcze z osadów parafinowych oraz ogrze­wano pomieszczenia.
Boiler house dating back from 1867. There is a fire-tube boiler inside the boiler house; the boiler's heating area is 30 m; it is fired with coal or coke. On a 19th-century oil field the steam generated in the boiler house was the basic source of energy. The steam was used in steam engines which were used to drive the eccentricdrive wheels and drilling devices. Production pipes were cleaned using steam to remove the paraffin sediments and the rooms were heated.
Kesselhaus aus dem Jahr 1867. Im Kesselhaus ist ein Flammrohrkessel mit Heizfläche von 30m2 zu sehen, der mit Kohle und Koks befeuert wurde. Im Bergwerk aus dem 19. Jahrhundert kam der Dampf aus dem Kesselhaus in Dampfmaschinen in Einsatz, die zum Antrieb von Göpeln und Bohrgeräten dienten. Mit dem warmen Dampf wurden Paraffinablagerungen aus den Bohrrohren entfernt und er wurde zur Heizung der Räume verwendet.
Здание котельной, 1867 г. В котельной находится фумигационный котел с поверхностью нагрева 30 м2, который отапливался углем и коксом. В шахте XIX века вырабатываемый в котельной пар являлся основным источником энергии. Он использовался в паровых машинах, которые служили для приведение в движение насосных агрегатов и бурового оборудования. С помощью горячего пара шахтные трубы очищались от парафиновых отложений, отапливались помещения.