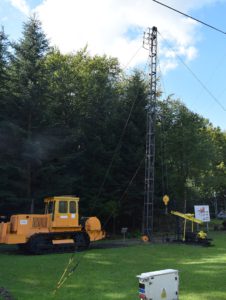 Obróbka otworu eksploatacyjnego przy wykorzystaniu urządzeń takich jak: winda wyciągowa produkcji polskiej z roku 1993 WEG-175, maszt kratowy MES-15. Tego typu obróbkę stosuje się w celu regeneracji elementów wydobywczych znajdujących się wewnątrz odwiertu. Polega ona na wyciągnięciu tłoka na żerdziach wydobywczych oraz cylindra na rurkach wydobywczych. Po ich regeneracji zapuszcza się je ponownie do odwiertu, zagłowicza i łączy poprzez cięgna elastyczne do żurawia pompowego Te1,8/40 s.
Oil well reconditioning, using such devices as a hoist winch of Polish made, manufactured in 1993, WEG- 175 type, a lattice mast, MES-15 type. This type of reconditioning is carried out to regenerate the production elements inside the well. The piston on the production rods and the cylinder on the production pipes are pulled out. After they are regenerated, they are re-run into the well and the well completion (wellhead) operation is performed and flexible pulling elements are connected to the pump jack, Te1,
8/40 s.
Wartungsarbeiten am Erdölbohrloch beim Einsatz folgender Anlagen: Hebewinde WEG-175, hergestellt in Polen im Jahr 1953, Gittermast MES-1. Die Wartung dieser Art wird zum Zwecke der Erneuerung von Bohrelementen innerhalb des Bohrloches verwendet. Im Zuge der Wartungsarbeiten werden Kolben auf Bohrstangen und Zylinder auf Bohrrohren hinausgezogen. Nach der Durchführung der Wartungsarbeiten werden sie wieder ins Bohrloch gesenkt, dann gehängt und mittels eines flexiblen Rohrs mit der Tiefpumpe verbunden.
Обработка нефтяной скважины с использованием такого оборудования, как вытяжной лифт WEG-175 польского производства 1993 года, решетчатая мачта MES -15. Такая обработка используется для восстановления элементов добычного оборудования, находящихся внутри скважины. Она состоит в вытягивании поршня на шахтных балках и цилиндра на шахтных трубах. После их регенерации, они повторно опускаются в скважину и соединяются эластичными тросами с насосным краном Te1.8/40 с.