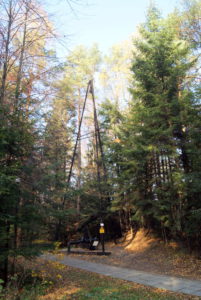 Kopanka "Janina" z 1878 r. Wykopana ręcznie do głębokości 132 m, a następnie pogłębiona wiertnicą ręczną do głębokości 250 m. Wewnątrz oryginalne cembrowiny. Aktualnie ropa wydobywana jest za pomocą pompy wgłębnej. Do studni zapuszczone zostały rury i przewód pompowy, a nad kopanką ustawiony został ki­won, napędzający pompę.
Dug oil well "Janina" dating back from 1878 r . Dug manually to a depth of 132 m, and then deepened by a manual drilling rig to a depth of 250 m. The original casing inside. Today, crude oil is produced using a bottom-hole pump. The pipes and pump line were run into the well and a nodding donkey running the pump was mounted over the well (kopanka).
Brunnengrube "Janina" aus dem Jahr 1878. Die handgegrabene Brunnengrube bis zur Tiefe 132m, und dann vertieft bis zu 250m mittels Handbohrmaschine. Innen befinden sich originale hölzerne Brunnenringe. Derzeit wird Erdöl mittels der Tiefpumpe gefördert. Im Brunnen wurden Rohre und Pumpenleitung angebracht und über die Brunnengrube wurde ein Ölbohrturm gestellt.
Скважина «Янина», 1878 г. Выкопана вручную до глубины 132 м, а затем углублена ручным буром до глубины 250 м. Внутри оригинальный сруб. В настоящее время нефть добывается с помощью погружного насоса. В колодец были проведены трубы и насосный шланг, а над скважиной установлена качалка, приводящая насос в движение.