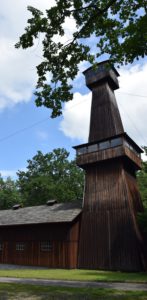 Wiertnica polsko-kanadyjska. Replika wiertnicy sprowadzonej przez Henry'ego Mac Garvey'a i ada­ptowanej przez polskich specjalistów, do wiercenia w trudnych warunkach karpackich. Zmodernizowana zo­stała nie tylko konstrukcja, ale rów­nież system wiercenia. Taką wiert­nicą rozwiercone zostały najbogatsze w galicyjskim przemyśle złoża ropy naftowej w rejonie Schodnicy, Borysławia i Tustanowic. Dzięki te­mu, w 1909 r. Polska osiągnęła po­ziom wydobycia ropy ponad 2 mln ton i znalazła się na trzecim miejscu w świecie. Wiertnica mogła wier­cić do głębokości 1 500 m. Wnętrze wiertnicy zaadaptowane do potrzeb gastronomicznych, niedostępne dla zwiedzających.
Polish-Canadian drilling rig. A replica of a rig imported by Henry Mac Garvey and adapted by Polish specialists to carry out drilling operations in difficult Carpathian conditions. Not only the structure but also the system of drilling was modernized. This unit was used to drill to the richest crude oil accumulation (reservoirs) in the Galician upstream industry in the areas of Schodnica, Borysław and Tustanowice. In 1909 Poland reached the production level exceeding 2m MT and was third in the world. The drill rig could make boreholes to a depth of 1 500 m. The inside of the rig unit is adapted for catering purposes is not available for visitors.
Polnisch-kanadische Bohranlage.Replik der Bohranlage, die vom Henry MacGarvey eingeführt und von polnischen Bohrfachleuten an die schweren Bohrbedingungen in den Karpaten angepasst wurde. Nicht nur die Konstruktion sondern auch Bohrsystem wurden modernisiert. Mit dieser Bohranlage wurde Erdöl in den reichsten Lagerstätten auf dem Industriegebiet von Galizien, speziell um die Städte Schodnica, Borysławiec und Tustanowic, gewonnen. Dadurch erreichte Polen die Fördermenge von über 2 Millionen Tonnen und hatte den dritten Anteil in der weltweiten Erdölgewinnung. Die Bohranlage konnte bis zur Tiefe von 1500m teufen. Das Innere der Bohranlage wurde zu gastronomiebezogenen Bedürfnissen, den Besuchern nicht zugänglich, umgestaltet.
Польско-канадская буровая установка.Копия буровой установки, привезенной Генри Макгарви и адаптированной польскими специалистами для бурения в сложных карпатских условиях. Была модернизирована не только конструкция, но и буровая система. Такой буровой установкой были пробурены самые богатые в галицкой промышленности нефтяные месторождения в районе Сходницы, Борыслава и Тустановиц. Благодаря этому, в 1909 году Польша достигла уровня добычи нефти более 2 миллионов тонн и заняла третье место в мире. Буровая установка могла бурить на глубину до 1 500 м. Внутренняя часть буровой установки, адаптированная к потребностям общественного питания, недоступна  для  экскурсий.