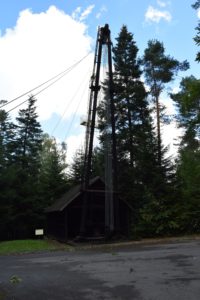 Wiertnica "SM3". Wiertnica udarowa, linowa z roku 1935, zapro­jektowana przez Stanisława Szera­uca i Mieczysława Mrazka. Jest to kolejna adaptacja wiertnicy SM1 i SM2 wspomnianych konstruk­torów. Wiertnica służyła do wy­konywania otworów o głębokości do 800 m średnicy 5". Zbudowana została na ramie drewnianej, posia­da tylko 2 bębny linowe. Była dosyć trudna do transportu i montażu w te­renie górskim pozbawionym dróg.
Drilling rig, "SM3" type. Percussive (impact) drilling rig, line type, manufactured in 1935, designed by Stanisław Szerauc and Mieczysław Mrazek. It is a further adaptation (modernization) of drilling rig SM1 and SM2 made by the aforementioned constructors. The drilling rig was used to drill boreholes to a depth of 800 m and 5" in diameter. It was built on a wooden frame and had only 2 rope drums. It was difficult to transport and assemble in mountainous areas without proper roads.
Bohranlage "SMS3". Die Bohranlage zum Seilschlagverfahren aus dem Jahr 1935, entwickelt von Stanisław Szerauca und Mieczysław Mrazek. Das ist die nächste Anpassung der Bohranlage SM1 und SM2 der vorgenannten Konstrukteuren. Beim Einsatz dieser Bohranlage wurde die Bohrtiefen bis zu 800m mit Durchmesser von 5" erzielt. Sie wurde auf einem Holzrahmen gebaut und sie bestand nur aus zwei Seiltrommeln. Das Gebirgsgebiet ohne Straßen beeinträchtige die Beförderung und die Montage der Bohranlage.
Буровая установка «SM3». Канатно-ударная буровая установка 1935 года, спроектированная Станиславом Шерауцем и Мечиславом Мразеком. Это еще одна адаптация буровой установки SM1 и SM2 упомянутых конструкторов. Буровая установка использовалась для бурения скважин глубиной до 800 м и диаметром 5″. Она была построена на деревянной раме, имеет только 2 канатных барабана. Установку было трудно перевозить и монтировать в горной местности без дорог.