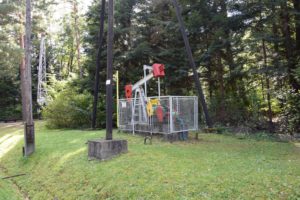 Wykona­ny systemem wiertniczym pod ko­niec XIX wieku otwór, z którego wy­dobywana jest ropa naftowa. Nad otworem zainstalowane jest urządze­nie do indywidualnego pompowania ropy, tzw. "konik pompowy 1 000", produkowany od 1954 r. przez Fa­brykę Maszyn "Glinik" Gorlice. Otwór jest nadal czynny.
"OPAL 20" producing oil well. An oil well made by drilling methods at the end of the 19th century from which crude oil is produced. An individual pumping device, so called "pump jack 1000" is installed over the well; the pump jack has been manufactured since 1954 by Fabryka Maszyn "Glinik" Gorlice (a mining machinery manufacturer). The oil well is still functioning.
Bohrloch "OPAL 20", gebohrt Ende des 19. Jahrhunderts für die Erdölgewinnung über dem Bohrloch war eine Anlage zur Förderung aus einem Einzelbohrloch, ein sogenannter "Pferdekopf", angebracht, der im Maschinenbauwerk "Glinik" seit 1954 hergestellt wurde. Das Bohrloch ist weiterhin in Betrieb.
Буровая скважина «OPAL 20». Выполненная по системе бурения в конце XIX века скважина, из которой добывается нефть. Над скважиной установлено устройство для индивидуальной прокачки нефти, так называемая «насосная лошадка 1 000», выпускаемая с 1954 года машиносторительным заводом «Глиник» Горлице. Скважина все еще является действующей.