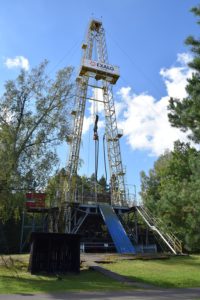 Wiertnica "N 1400 S". Zapro­jektowana i wyprodukowana przez Fabrykę Maszyn "Glinik" Gorli­ce, w latach 80. XX wieku. Służyła do wiercenia obrotowego otworów głębokich do 4 500 m.
Drilling rig, "N 1400 S" type. Designed and manufactured by Fabryka Maszyn "Glinik" Gorlice (a machinery manufacturer) in the 1980s. It was used for rotary drilling
of boreholes to a depth of 4 500 m.
Bohranlage "N 1400 S". Sie wurde in 80er Jahren des 20. Jahrhunderts im Maschinenbauwerk "Glinik" in Gorlice entwickelt und hergestellt. Sie diente zum Rotary-Verfahren, bei dem die tiefen Bohrlöcher bis zu 4500m gebohrt wurden.
Буровая установка «N 1400 S». Разработана и произведена машиностроительным заводом «Глиник» Горлице, в 1980-х годах. Она служила для  вращательного бурения глубоких скважин до 4 500 м.