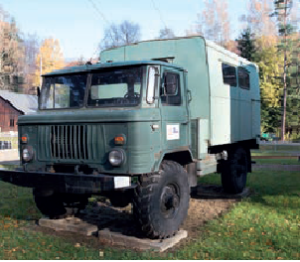 Winda pomiarowa na pod­woziu samochodu Gaz 66. Słu­żyła do przeprowadzania różnych operacji w otworach eksploata­cyjnych przy zastosowaniu tech­niki linowej m.in do zapuszczania i wyciągania przyrządów pomia­rowych do i z otworów eksplo­atacyjnych w celu przeprowadze­nia pomiarów parametrów złożo­wych. W Polsce windy pomiarowe znane są również pod nazwą wy­ciągi pomiarowe.
Measuring hoist, mounted on Gaz 66 vehicle chassis. It was used for various operations in production oil wells using a line technique, among other things, to run and draw back measuring instruments into and from oil wells to measure reservoir characteristics. The hoists are also known as wire line units.
Messwinde auf dem Fahrwerk des russischen Lastkraftwagens Gaz 66. Sie wurde bei mehreren Vorgängen in den Bohrlöchern im Seilverfahren verwendet, unter anderem zum Senken und Hinausziehen der Messgeräte in die Bohrlöcher und daraus, wodurch die Messungen der Lagerstättengröße möglich waren. In Polen sind die Messwinden auch als Messauszüge bekannt.
Измерительный лифт на шасси автомобиля Gaz 66. Использовался для проведения различных операций в эксплуатационных скважинах с использованием канатной технологии, в том числе для опускания и подъема измерительных приборов в эксплуатационные скважины из них для проведения измерений параметров месторрождения. В Польше измерительные лифты также известны как измерительные подъемники.