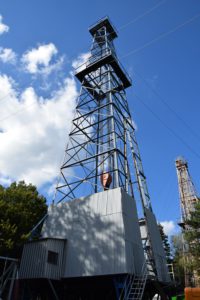 Wiertnica "Trauzl". Urządzenie importowane z Austrii. Pochodzi z roku 1948.Dzięki wzmocnionej konstrukcji oraz zainstalowanej większej mocy można wiercić do głębokości 3000 m przewodem Ø 3,5 cala.Urządzenie wierciło otwory na terenie działania Zakładu Poszukiwań Nafty i Gazu w Pile na Niżu Polskim i Pomorzu.
Drilling rig, "Trauzl" type. Device imported from Austria. It comes from 1948. Thanks of larger power mighty to bore to depth 3000 m drilling pipe 3,5 inch. Device worked on terrain of oil mines in Polish lower lands and Pomerania region.
Bohranlage "Trauzl", hergestellt in Österreich, dient zum Rotary-Bohrverfahren bis zur Tiefe von 3000m.
Буровая установка «Trauzl» австрийского производства служит для вращательного бурения до глубины 3 000 м.