2A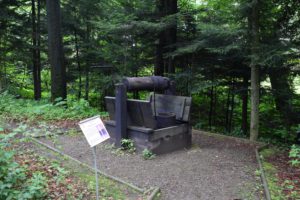 2B
2C
Model kopanki odtworzony zo­stał na podstawie rysunków znaj­dujących się w publikacjach z po­czątkowych lat drążenia kopanek. Jest to fragment części nawierzch­niowej kopanki-studni z kołowro­tem i obudową (cembrowinami).
2A – Kopanka "Wiktor"
2B – Kopanka 635 "Błażej"
2C – Kopanka 634 "Mineralna"
Model of 19th century hand-dug oil well  was reconstructed on the basis of the drawings in publications coming from the first years of digging the wells. It is a fragment of the surface part of the dug well featuring a draw works and the well casing.
2A – Dug oil well "Wiktor"
2B – Dug oil well 635 "Błażej"
2C – Dug oil well 634 "Mineralna 
Modell der handgegrabenen Brunnengrube wurde nach Zeichnungen aus den Publikationen aus den ersten Jahren der Brunnenausschachtungen wiederhergestellt. Das Modell präsentiert ein Fragment des oberen Teiles der Brunnengrube mit Haspel und Verkleidung (Brunnenringen).
2A – Brunnengrube "Wiktor"
2B – Brunnengrube 635 "Błażej"
2C – Brunnengrube 634 "Mineralna"
Модель скважины воссоздана на основании чертежей, находящихся в публикациях   первых лет бурения скважин. Это фрагмент поверхностной части скважины – колодца c воротом и корпусом (кожухом).
2A – Скважина "Wiktor"
2B – Скважина 635 "Błażej"
2C – Скважина 634 "Mineralna"