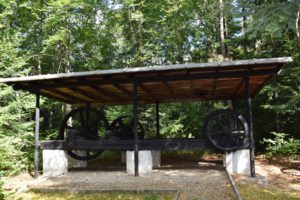 Jedno z najstarszych urządzeń do grupo­wego napędu pomp wgłębnych cha­rakteryzujące się tym, że zęby kół kieratu były wymienne i wykony­wane z twardego drewna. Na koń­cach wału ostatniej przystawki, za­mocowane były korby zamieniające ruch obrotowy przystawek na ruch posuwisto-zwrotny, który przeno­szony był za pośrednictwem pocią­gaczy na koło filialne, do którego podpinane były transmisje pompo­we. Do napędu kieratu używane by­ły zazwyczaj maszyny parowe.
Pump central power dating back from the 2nd half of the 19th century. One of the oldest devices of group drive of bottom-hole pumps with such a specificity that the teeth of the wheels were replaceable and they were made of hardwood. On the ends of the shaft of the last attachment, there were cranks installed which changed the rotary movement of the attachments into the reciprocating movement which was transmitted by pulling rods onto the slave wheel, to which pump transmissions were attached. The whole drive unit was usually driven by steam engines.
Prototyp des Göpels aus 2. Hälfte des 19. Jahrhunderts. Eine der ältesten Anlage für den Gruppenantrieb der Tiefpumpen ist dadurch gekennzeichnet, dass die Zähne des Rades ersetzbar waren und aus Hartholz gefertigt wurden. An Enden der Welle aus dem letzten Vorgelege waren die Kurbeln angebracht, wodurch die Drehbewegung der Vorgelegte durch die Hin- und Herbewegung ersetzt wurde. Die Drehbewegung wurde über die Zugstangen aufs Mittelrad übertragen, an dem die Pumpen-Transmissionen angebracht waren. Beim maschinellen Göpelantrieb wurden Dampfmaschinen verwendet.
Прототип насосного агрегата второй половины XIX века. Одно из старейших устройств для плунжерных насосов с групповым управлением характеризуется тем, что зубья колес агрегата были взаимозаменяемы и изготавливались из твердых пород дерева. На концах вала последней насадки находились кривошипы, заменяющие     вращательное движение приставок на возвратно-поступательное движение, которое   переносилось на дополнительное колесо, к которому были прикреплены передачи насоса. Для управления насосным агрегатом обычно использовались паровые машины.